We are proud to announce that last month Bon Appetit was nominated 'Business Hero of the Year' as part of the Colchester Business Awards – And we are ecstatic to announce…we won!!
To say we are delighted would be an understatement!
We couldn't be happier, or prouder of every member of the Bon Appetit team. And this could never have happened without them! Rest assured, everyone will be celebrating in true Bon Appetit style – with fan favourites and one of the most special, customised sandwich platters Colchester has ever seen. And we've been giving some thought as to how we have landed such a massive milestone. To not only be nominated but to win 'Business Hero of the Year' in the Colchester Business Awards!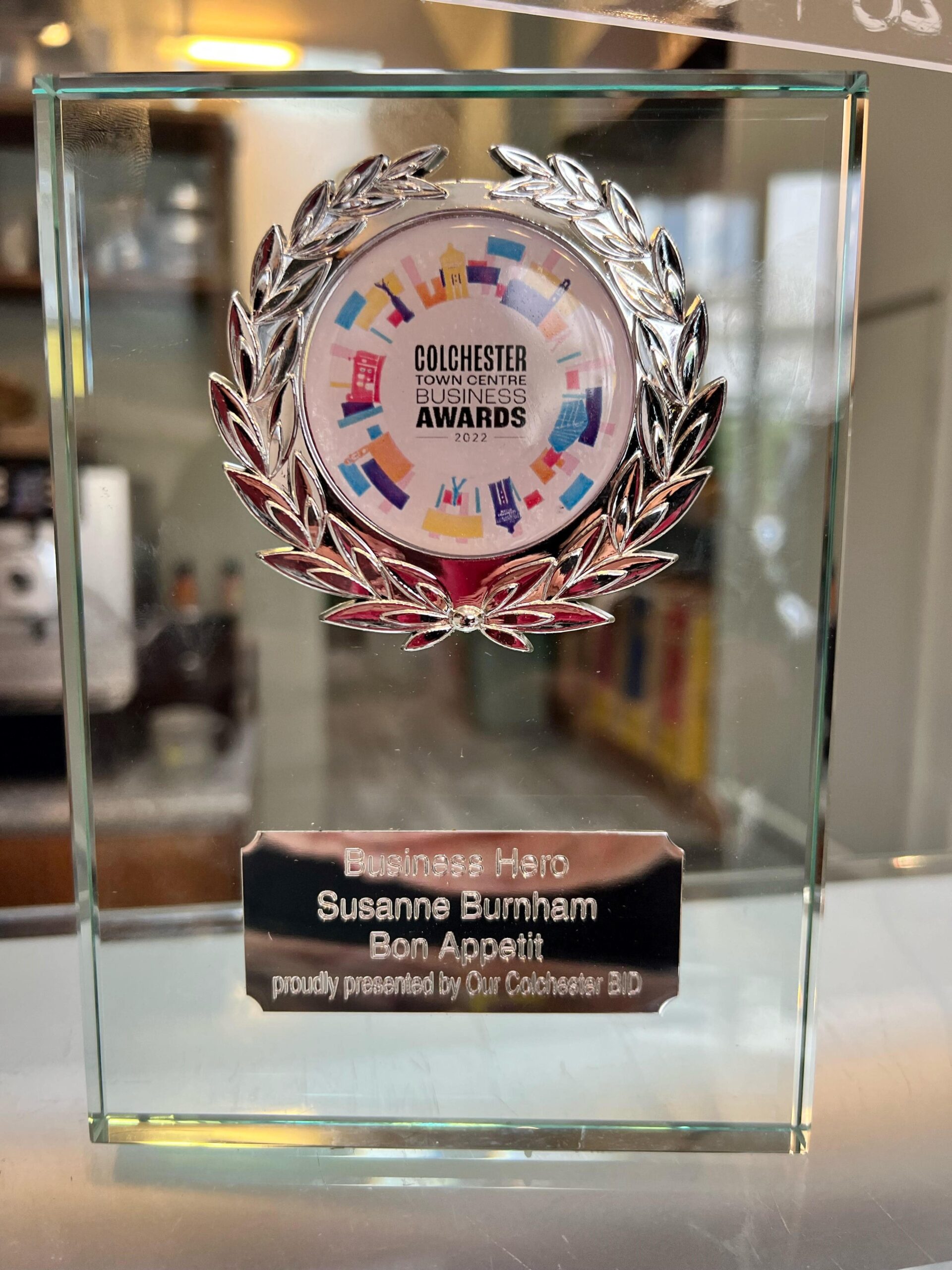 We decided that it all comes back to one thing…the uniqueness of Bon Appetit.
When it comes to the buffet caterers Colchester offers, Bon appetit like to think we provide a unique and distinctly delicious service. Our fully customisable menu means every customer is able to assemble their order from scratch.
It puts us in a unique position to cater to every persons requirements, preferences and specifications – no matter how different they may be!
We are a friend to the picky eater, the lovers of weird combos and anyone in need of some wholesome, homemade comfort food.
Every salad box, sandwich, special and soup is prepared from scratch in store every day using only the freshest ingredients. And everyone knows that nothing compares to freshly prepared, food made from scratch.
And on those days when you don't feel like cooking, or you forget your lunch, you don't have to settle for anything less than excellent – just get in touch or place an order on the delivery apps below.
And perhaps it's for these reasons that our customers decided to nominate us for the Colchester Business Awards.
Nothing quite represents our values and abilities as well as providing some of the finest sandwich platters Colchester has to offer.
Whether it's a wake, family event, or wedding, Bon Appetit will be there to provide you with high quality, delicious food prepared with care, consideration and only the freshest ingredients!
Like our daily menu, our buffet catering and sandwich platters are fully customisable.
Prepared from scratch and hand made to order, Bon Appetit is able to fully cater to every dietary requirement and preference (yes even the pickiest of eaters)!
And we also offer sweet treats to satisfy those with a bit of a sweet tooth.
The Bon Appetit team could give you plenty examples of why we think what we do here is so special. But at the end of the day, it was you, our customers that decided Bon Appetit was special to you – and put us forward for the Colchester Business Awards. That's what matters most to us and we can't begin to thank you enough for supporting our business!
After all, it was your support that nominated us in the first place and seemed to really speak to the Colchester Business Awards Judges.
We appreciate all of the feedback we receive, but there's nothing like the feeling you get from a genuinely happy customer – and these reviews really made us smile.
James Allen, a local guide
"We decided to use Bon Appetit to cater a cold buffet for a wedding, and couldn't have made a better choice, they were happy to cater for all our needs including a number of different dietary requirements. Their food was absolutely delicious and the range was great. I would be more than happy to recommend them to anyone looking for a buffet spread."
Gina Cooper
"Friendly staff and delicious sandwiches 🙂 thank you so much!"
Jake Perrie
"The BEST sandwich EVER!!!! I absolutely love this place!!! The staff are always so chatty and friendly, the sandwiches are just huge and filled like crazy with whatever you want! Brilliant value for money too!!"
Proud Colchester Business Awards winner!
A huge thank you to every customer, member of staff and the lovely folks at the Colchester Business Awards. It was a privilege to be nominated and an absolute honour to receive this award!
If you would like to experience our services firsthand, get in touch with the team today or place an order on the JustEat and Deliveroo apps.